"Christ is Risen from the dead, trampling down death by death, and upon those in the tombs bestowing Life."
~ Paschal Troparion
62 Harvard Avenue, Allston, MA 02134
Church and school phone: (617) 787-7625
The Savior of All
---
The Feast of the Nativity is perhaps one of the most vivid and captivating scenes that we read of in the gospels. The accounts from Matthew and Luke give so many images and scenes that have made an irresistible impression on the consciousness of humanity: the inn, the manger, dreams of Joseph, the angels, the magi.
In iconography and sacred art, however, the oldest images of Christmas are quite barebones, only having the Christ child in the manger flanked by an ox and a donkey. This image is a fulfillment of the words of Isaiah the Prophet, who said:
"The ox knoweth his owner, and the ass his master's crib: but Israel doth not know, my people doth not consider." (Is. 1:3 KJV)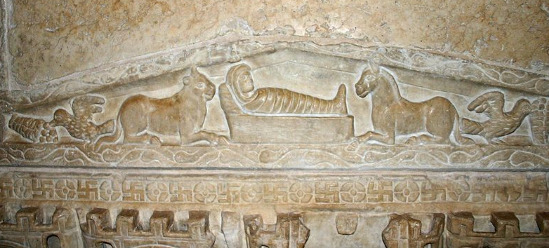 Our lives are filled with so much indulgence and so many distractions that we often cannot even see God in our lives, let alone have the thought to pray to Him, but these mindless animals are able to know their Creator just like the fish who obey Christ's command and enter the net of Peter.
This ancient icon should be a challenge to our conscience, a reminder that we make ourselves lower than the animals by forsaking God and not worshipping Him wholeheartedly. But this icon also brings a message of hope.
Throughout scripture, the ox is viewed as a symbol of the people of Israel, while the donkey is a symbol of the Gentiles (as we learn in the hymnography of Palm Sunday).
Christ's incarnation into the world is an invitation for all of mankind to worship the one true God Who is Lord of all. The manger is the place where anyone can come and offer themselves to God just as the Magi offered their gifts. The Church is God's bringing together of all races of people into unity just as the ox and the donkey share in a united adoration of Christ.
If we truly believe that Christ is the Savior of all people, then this Feast of the Nativity is not just for our enjoyment, but it is truly a feast for all of humanity. Let us honor the Feast not only by preparing for it with fasting and by attending services but also by inviting others to share in our joy so that they might come to know Christ, Who has come to save the world.

Service Dates and Times
---
For service dates and times, please refer to the Calendar page.

~ Weekly Schedule ~
---
"Orthodox Faith and Life" Class (aka Orthodoxy 101): Saturdays at 4pm
Vigil: Saturdays at 5:30pm
Divine Liturgy: Sundays at 9:30am
Open Door Dinner: Mondays at 6pm
Tree of Life Bookstore: Sundays after Church and by appointment
St Herman's School: 8am–3pm Monday–Friday during the school year
Deaf Ministry: Amateur ASL interpreter at most church services
~ Clergy ~
---
Fr. Teodor Anastasoaie
Fr. Dcn. John Williamson
Fr. Dcn. Andrey Sukharev
Fr. Dcn. Aaron Friar