"Christ is Risen from the dead, trampling down death by death, and upon those in the tombs bestowing Life."
~ Paschal Troparion
62 Harvard Avenue, Allston, MA 02134
Church and school phone: (617) 787-7625
Santa Lucia Festival
---
Please join us for the Santa Lucial Festival, after Divine Liturgy on Sunday December 9.
Santa Lucia, who is actually commemorated liturgically on Dec. 13/26, lived at the end of the 3rd, beginning of the 4th century. She is an Orthodox saint from Syracuse…not N.Y. but southern Italy. For many years, our parish has practiced a Swedish tradition of hospitality where the St. Lucia bride enters our Parish Hall in a beautiful white dress with a red sash and wearing a wreath of greens and candles on her head. She distributes delicious Lucia buns to all in attendance while we join in singing the Santa Lucia song together. The St. Lucia Festival is scheduled this year on Dec. 9th immediately following Divine Liturgy. There will be a repast and special Benefit Bake Sale to support the St. Herman of Alaska School.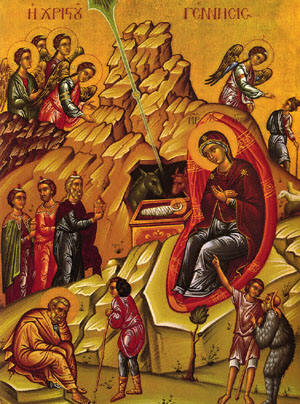 An Advent Letter: Keeping a Good Christmas
---
Dear Brothers and Sisters in Christ,
We wanted to record and share with you some of the ways that we have been keeping a good Christmas in our parish. The reason for this letter is to provide an overview and map of the Nativity Season, including information about the fast, the feasts which we celebrate in the midst of the fast, various local traditions of our parish and some practices that you can use in your home. [Read More >>]
Service Dates and Times
---
For service dates and times, please refer to the Calendar page.

~ Weekly Schedule ~
---
"Orthodox Faith and Life" Class (aka Orthodoxy 101): Saturdays at 4pm
Vigil: Saturdays at 5:30pm
Divine Liturgy: Sundays at 9:30am
Open Door Dinner: Mondays at 6pm
Tree of Life Bookstore: Sundays after Church and by appointment
St Herman's School: 8am–3pm Monday–Friday during the school year
Deaf Ministry: Amateur ASL interpreter at most church services
~ Clergy ~
---
Fr. Teodor Anastasoaie
Fr. Dcn. John Williamson
Fr. Dcn. Andrey Sukharev