"Christ is Risen from the dead, trampling down death by death, and upon those in the tombs bestowing Life."
~ Paschal Troparion
62 Harvard Avenue, Allston, MA 02134
Church and school phone: (617) 787-7625
Resources for Great Lent
---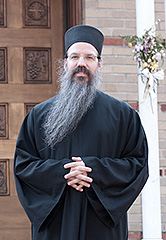 Lord and Master of My Life: Reflections on the Prayer of St. Ephraim (March 18, 2017) - by Fr Maximos, Simonopetra Monastery, Mt Athos. Visit the Talks and Videos page to listen to (or download) this and other lectures.

For more Lenten resouces, please refer to the Resources for Great Lent page.
~ Clergy ~
---
Fr. Teodor Anastasoaie
Fr. Dcn. John Williamson
Fr. Dcn. Andrey Sukharev
Fr. Dcn. Michael Tishel