"Christ is Risen from the dead, trampling down death by death, and upon those in the tombs bestowing Life."
~ Paschal Troparion
62 Harvard Avenue, Allston, MA 02134
Church and school phone: (617) 787-7625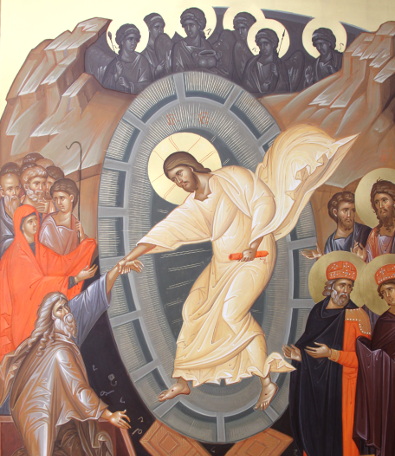 Christ is Risen!
Christ is Risen! Indeed He is Risen!
---
The services between Pascha and Ascension can help us continue to bring the spirit of the Resurrection into our daily lives. For service dates and times, please refer to the Calendar page.
Resources for the Paschal season can be found on the Pascha page.

Articles on Pascha and the Paschal Season
---
We have collected some letters and articles on Holy Week and on Pascha—the Feast of Feasts—here.
Also of note is this excerpt by St. Paisios on Feasts and Holidays.

Talks from the 2018 Women's Retreat
---
Fr. Maximos' talks from the 2018 Lenten Women's Retreat (along with a short biography) are now online. Listen to them or download them here.
~ Weekly Schedule ~
---
"Orthodox Faith and Life" Class (aka Orthodoxy 101): Saturdays at 4pm
Vigil: Saturdays at 5:30pm
Divine Liturgy: Sundays at 9:30am
Open Door Dinner: Mondays at 6pm
Tree of Life Bookstore: Sundays after Church and by appointment
St Herman's School: 8am–3pm Monday–Friday during the school year
Deaf Ministry: Amateur ASL interpreter at most church services
~ Clergy ~
---
Fr. Teodor Anastasoaie
Fr. Dcn. John Williamson
Fr. Dcn. Andrey Sukharev
Fr. Dcn. Tudor Sambeteanu